25 colombian teachers going to India
Posted on : 29-04-2017 | Back | Print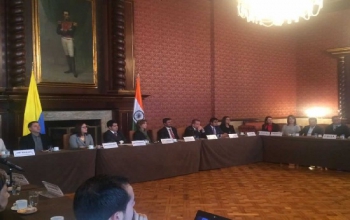 Ministry of foreign office organised farewell for the 25 English teachers who would be travelling to India as part of the scholarship being given by Indian government on 14 October afternoon at the Palacio San Carlos, foreign office.
The 25 English teachers would be staying at the prestigious English and foreign language university for six weeks and refining their English teaching skills.
The scholarship is fully funded by the ministry of external affairs of the government of India. During the farewell interaction , one alumni from the last year's course recounted his experience. It was followed by a Indian dance performance.
The Viceminister Ms. Patti Londoño, and the Viceminister of education Mr. Victor Saavedra, Ambassador of India HE Prabhat Kumar and Director of Asia Mr Alfredo Ramos were present at the event.
Go to Top | Back | Print